We can help you!
Marketing
Buying plants is often a planned purchase for consumers, for example because spring is approaching. Sometimes it is also an impulse purchase, simply because the sun is shining or the color of the plant is so special.
Planned or impulse purchase, in both cases, an attractive presentation entice consumers to purchase. You can easily provide that attractive eye-catching presentation yourself. We are happy to help you with this.
We offer marketing and promotion support for growers, trading companies, retailers and the press. The main goal is to increase recognizability and improve returns for growers and trading companies.

We can help you!
LABELS
We have developed labels for all our varieties that you can use. The labels provide the consumer with all necessary information and promote the variety in a simple but effective way.
Do you want to personalize our labels? Or do you want to develop an own label? Call or E-mail your contact person at Van Vliet New Plants for more information.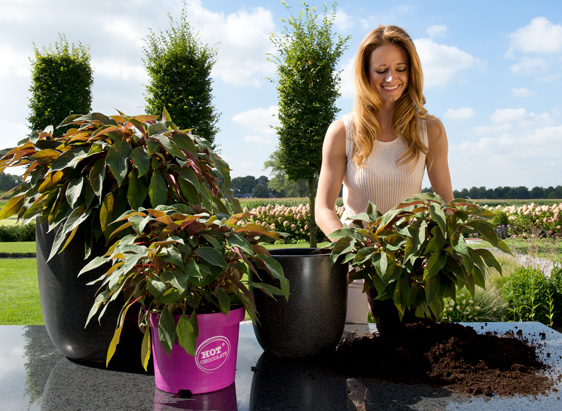 PHOTOGRAPHY
Professional photos are very important to launch and manage a variety in the right way. A picture is worth a thousand words. That's we invest a lot in professional pictures. Good pictures show stories, one picture can show all the USP's of a variety. We have high resolution photos available of our varieties.
Call or E-mail your contact person at Van Vliet New Plants to request photos or ask for more information.
BRANDING
Branding to connect the chain. We developed several brands, in order to create better revenues for growers and retailers. By connecting growers and retailers branding increases business value and generates new customers.
By creating a clear branding strategy for the product it becomes much more easy to get better recognition and better chances of a rebuy.
How can we help you to develop a good branding strategy for you new plant?

CONTACT OUR MARKETING DEPARTMENT
Van Vliet New Plants has its own marketing department. For more information please contact us.
Read more