Physocarpus opulifolius Panther
Very dark colored foliage with black branches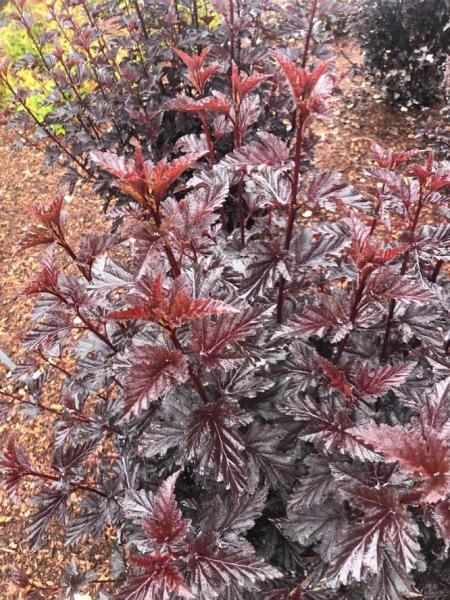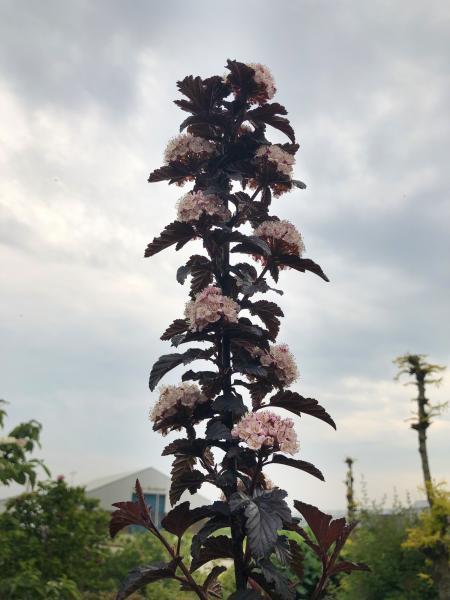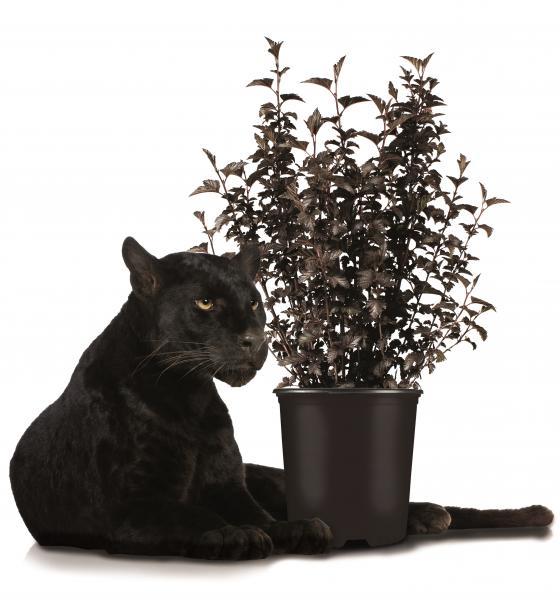 Overview
Breeder
Sublicense holders and Agents
Black branches
Bright purple flowers
Compact ball shaped habit
Easy to grow

Black foliage & black stems! Physocarpus opulifolius 'N5' Panther blooms with bright pink colored flowers. This gives a beautiful contrast to the very dark foliage.

Panther is a compact shrub which does not need a lot of labor. The plant is perfectly suitable in the visual assortment. Physocarpus Panther is winterhardy.

Bert Verhoef
Burgemeester Smitweg 37
2391NE Hazerswoude-Dorp
the Netherlands
Tel: 0172-588292
---
Agents
the Netherlands
Van Vliet New Plants
Stroeërweg 14
3776 MJ Stroe
Tel: 0342 - 444 344
United Kingdom
Seiont Nurseries
Kent farm, Pontrug
LL5 2BB Caernarfon
Tel: 0044-1286677453
Korea
Daelim Nursery Inc.
842 Iwon-myeon
Okcheon-gu Chungcheongbuk-do
Tel: +31 6 4693 1100
---
Sublicense holders
the Netherlands
Boomkwekerij Bert Verhoef
Burgemeester Smitweg 37
2391 NE Hazerswoude Dorp
Tel: 0172-588292
G. Hoogenraad Boomkwekerij
Rijksweg 30a
6744 WB Ederveen
Tel: 0318-571665
Kwekerij Ad Vromans B.V.
Akkerstraat 2a
5084 HL Biest-Houtakker
Tel: 013-5054084
NL Plants BV
Oude Lentsebaan 5
4884 NB Wernhout
Tel: +31-76-5973786
Belgium
Boomkwekerij Damen
Hoogeind 105 A
2321 Meer
Tel: 0032-33158343
Boomkwekerij van de Putte N.V.
Driesknoklaan 49
B-8540 Deerlijk
Tel: 0032-475253368
Josef Vanwynsberghe BVBA
Tjampensstraat 11A
B8570 Anzegem-Ingooigem
Tel: 0032-56779728
Vandamme Sierplanten BVBA
Jabbekestraat 11
8490 Jabbeke
Tel: 0032-50813535
Willy de Nolf NV
Drogenboomstraat 49
8790 Waregem
Tel: 0032-56621111
France
La Foret Pepinieres
illage la Forêt, Route de Pont Saint-Martin,
44840 Les Sorinières
Tel: +33 2 40 04 42 03
Poland
Gospodarstwo Ogrodnicze Aleksandra Kusibab-Wyka
Prandocin Ily 88a
32-090 Slomniki
Tel: 0048-792714944
Kurowski Grzegorz , Gospodarstwo Szkolkarskie
ul. Kurowska 105
24-130 Konskowola
Tel: 0048-818816213